Ragtime Dun D
Ragtime Voodoo Magic
Edelweiss Magic Man
Dark Debonette
Successful Outta the Blue
Robbi Sue's Sweet Success
Royal-T Lady Kitrina
Sable Nightingale

JMF Boogie Beam
Whispering High Beam
Nicola of Will A Way
Snowdancers Shadow Magic
Snowdancers Black Night
Sundowns Star Kist
June's complete pedigree can be found here.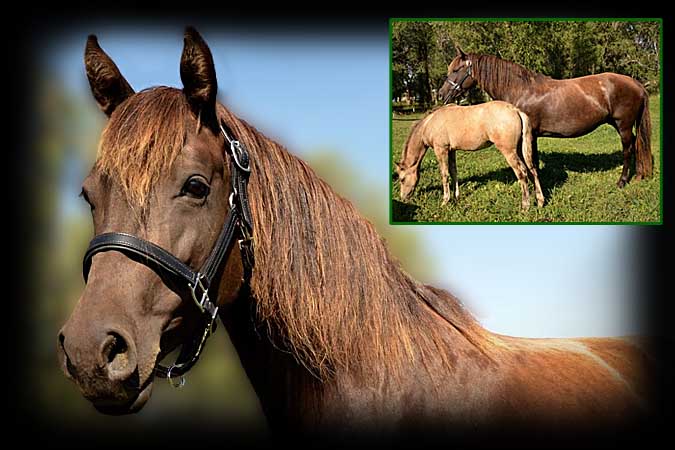 (Zeulner's Silver Legacy x Glick's LST Becky)
2009 black silver mare
P
olly is a breathtakingly beautiful mare that carries the rare silver dapple gene. She is homozygous black and has a fantastic head that sits very nicely on her curvy Morgan build. Polly has had some quality foals for Coulee Bend in Canada, and we hope she continues to produce such high caliber silver babies for us. She is professionally trained and we look forward to Polly being a breed ambassador.
Ruby has a wealth of old blood very close up. She is a Domino Joe granddaughter and pretty as they come. Chiseled head and ears sit atop a compact, well boned frame. She is smart, fun, and sassy!




(Tocaras Double Dose x APH Blank Cheque)
2018 dunskin mare
T
his refined Dunskin mare has all the good qualities of both of her parents. She is friendly, personable, and mellow. She has an exquisite head and flashy dun markings. Her light buttermilk coat is eye catching and reflects her angelic temperament. It will be exciting to watch this gorgeous girl develop.
With her sire advancing in age and the fact he has sired very few grulla fillies, it was an unbelievable blessing when this bold, fancy, sassy girl arrived. Zulu has been a pocket pony since birth and displays that temperament that made me fall in love with this line. She insists on attention, and everyone is drawn to her lap-dog like demeanor. She has wonderful feminine curves like her pretty mama and the confidence that her birthright conveys. I feel incredibly lucky to have this total package in my herd. Zulu will begin her saddle career spring of 2021.

This fantastic young mare is the complete package. I have long admired the horses that her breeders produce and when the opportunity to own this filly presented itself I had to succumb. She is a rare perlino dun with the bloodlines, size, and temperament I want to replicate. I call her Isabella. The white horses in Iberian countries are called that and it seems to fit her elegant demeanor. Looking forward to great things from this special girl.
RG Gus McCrae

Robbi Sue's Mr. Alert

Edelweiss Magic Man
Robbi Sue Misalert
Ragtime Tiz a Dun

JPSJG Just Amazing
Robbi Sue's Mystique

Bar Non Shady Blue Sky


Truwest Silver Suede
S Bar B Pierre Noire
Truwest Adobe Rose
MVR Buttercup
Montezsierradon
Windswept Ruth
Isabella's complete pedigree can be found here.









(TRW Wild Gunsmoke x H Bar M Casper's Sparrow)
2019 black mare
J
asmine is the sweetest filly with an exterior to match. She is feminine and elegant. Her bloodlines are a wonderful mix of some of my favorite Morgan breeding programs.
T
his flame colored mare is a wealth of old bloodlines. Her grandsire, Teton Blackman, was one of the most gorgeous Morgan stallions. Juby is furthering her saddle career and I'm hoping to pass her bloodlines along. Though she is a smaller mare, she is a powerful mountain horse with unmatched stamina.